Sergey Polyakov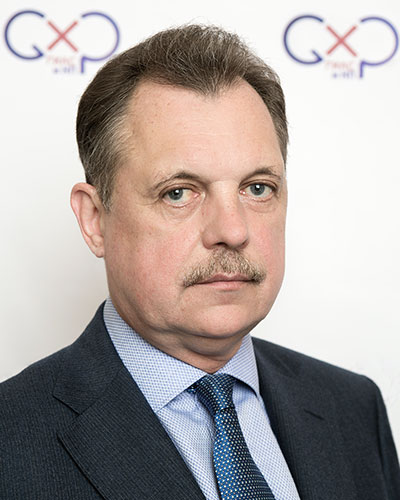 First Deputy Director
Education BackgroundGraduated from the Semashko Moscow Medical Stomatological Institute with a degree in General Medicine. Clinical residency in chemistry. Moscow Institute of Economy: course in Legal Fundamentals of the Market Economy and Business Activity. PhD, professor, Corresponding Member of the Russian Academy of Natural Sciences. Social hygienist, first class specialist of healthcare organization, management expert for economical and judicial issues. Moscow Municipal Department of Healthcare Medical Academic Council Member.
Employment HistoryNovember 2018 – until today: Advisor to the Director at SID&GP.
2016 – May 2018: Deputy Scientific Director at SID&GP.
2015-2016: Medical Director at Penta-Clinic.
2014-2015: Principal Deputy General Counsel at the Medical Administration of the Mayor and Government of Moscow.
2013-2014: Deputy Minister of Healthcare of the Moscow Region.
2012-2013: First Vice President at Medsi Group.
2010-2012: Medical Director at the Alexeev Psychiatric Hospital No. 1.
October to December 2010: Minister, Head of the Healthcare Department of the Moscow City Government.
2003-2012: Head of the Healthcare and Economics Department of the Russian State Medical University Department of General Medicine.
1996-2010: Served in the Moscow Municipal Healthcare Department as Vice Chairman, Deputy Head of Department, Head of Department and Minister of the Government of Moscow.
1994-1996: Medical Director at the Municipal Clinical Hospital No. 59.
1992-1994: Deputy Medical Director of the Central Clinic Hospital of the Moscow Patriarch Administration.
1991-1992: Head of the Institutional Care of Moscow Municipal Bureau of Medicine.
1985-1991: Deputy Medical Director for Surgery at the Municipal Clinical Hospital No. 40.
1978-1980: Junior Doctor at the Pirogov Municipal Clinical Hospital No. 1.
Personal AwardsRussian Federation Honorary Doctor (issued in 2005) and Veteran of Labor titles. The «Commemoration of Moscow 850th Anniversary» and certificates of appreciation issued by the Moscow City Government and Department of Healthcare. Honorable Mention from the Government of the Russian Federation. Winner of the Russian Federation Government Prize in Science and Technology. Winner of the Moscow City Government Prize for Healthcare and Medicine for 1999 and 2011.